Vented Skylights in the Oklahoma City 
Vented skylights are generally used to not only let light into your room, but also provide ventilation to an indoor space and let heat escape through the skylight in the roof. Upstairs rooms can get quite hot and adding additional sunlight through windows and skylights – while aesthetically pleasing and less expensive than electric light – can increase the heat. Adding vented skylights to your Oklahoma City metro area home can help keep the temperature in your room comfortable and provide a breath of fresh air.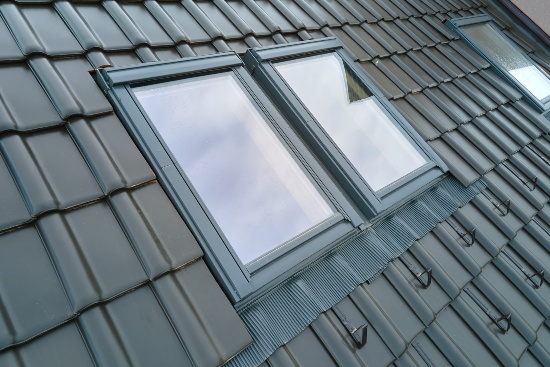 Do You Need a Vented Skylight Replacement?
It can be difficult to tell if you need a replacement for your skylight. Sometimes it isn't obvious. Here are some signs to look for that might indicate you are in need of skylight replacement:
You feel a draft – Since your skylight is in the ceiling, keeping the seal air- and water-tight is very important. If you feel a draft, that might indicate that the seal is broken and needs repair.
You notice water spots – If your skylight is broken or damaged, water can leak in, causing water damage to the ceiling, frame, or floor. If you notice water spots or visible dripping, this can indicate a problem.
You find broken glass – Skylights are extremely durable, so this would be a rare occurrence, even after extreme weather. However, glass can sometimes get damaged in the case of a bad storm or tree branch damage. This would indicate a need for a replacement.
If you are unsure if you are in need of a vented skylight repair or replacement, the experts here at Consolidated Builders Supply can do an inspection to make sure that your skylights are in proper working order to prevent any damage to your home.
The Benefits of Ventilation
Just like having windows in your home can have benefits, a skylight – especially in the right room – can offer many benefits to you as a homeowner. These include:

Reduced energy costs
Keeping your home ventilated will help ensure that your home stays cool when you want it to be and doesn't overheat. During warmer months when heat can rise to upper levels, having ventilation can also help ensure your air conditioners are not overworking. This can be especially effective in two-level houses.

More comfortable living conditions
Having ventilation can keep a more uniform temperature in your home, which can keep you more comfortable.

Longer lasting roof
Proper roof ventilation can ensure that you do not get ice buildup on your roof, which can cause damage to your shingles. Having a skylight adds to the proper ventilation of your roof and can extend the life of your roof.

Reduced moisture
Aluminum is one of the most secure materials and provides the best protection against home invasions and security breaches.
Ventilation can solve a number of issues in your home, and choosing a ventilated skylight takes these benefits and adds sunlight and beauty as well. Talk to an expert at Consolidated Builders Supply if you are interested in learning more about ventilated skylights for your home.
Different Types of Skylight Ventilation
There are multiple types of skylight ventilation that you can choose from. These include:
Non-vented skylights
Passive ventilation skylights
Dome fan skylights
Skylight fans
Opening skylights
Each type can have varying results for your home in terms of energy efficiency and ventilation, so talking with a professional expert in skylight installation is best before making your decision on what type of skylight is right for your home.
Positioning and Installing Skylights
One of the most important parts of installing skylights is positioning. Talking to a roofing expert is a good way to help you decide what type of skylight to install and the best placement. Factors to consider include sun exposure, roof structure, ventilation, aesthetics, and roof type. Installing a vented skylight for a bathroom versus a vented skylight for a flat roof, for example, are very different jobs and require expert assessment and installation.
Why Choose Consolidated Builders Supply in Oklahoma City
Consolidated Builders Supply has over 25 years of experience installing custom windows, doors, and skylights. We pride ourselves on stellar customer service and would love to show you around our expansive showroom to help you choose the right building materials for your home. We use high-quality, long-lasting products to help ensure the structural integrity of your home. Beginning with a free consultation, our experts will walk you through the process of beautifying your home.
Contact us today
!