Iron Doors in the Oklahoma City
Consolidated Builders Supply for Home Projects
Consolidated Builders Supply has served Oklahoma City, OK homeowners' door, window, and skylight needs since 1984. Our decades in the home improvement industry encompass selling and installing options from some of the most trusted brands and manufacturers. Your home serves the best possible services to personalize its look and security to your unique needs. All our high-quality doors come at competitive prices to keep style and quality affordable. We proudly offer the metropolitan area a broad range of doors in various sizes, colors, styles, and materials, including iron doors for front entrances. You can visit our showroom to browse our selection in person and find a perfect upgrade to your domestic investment.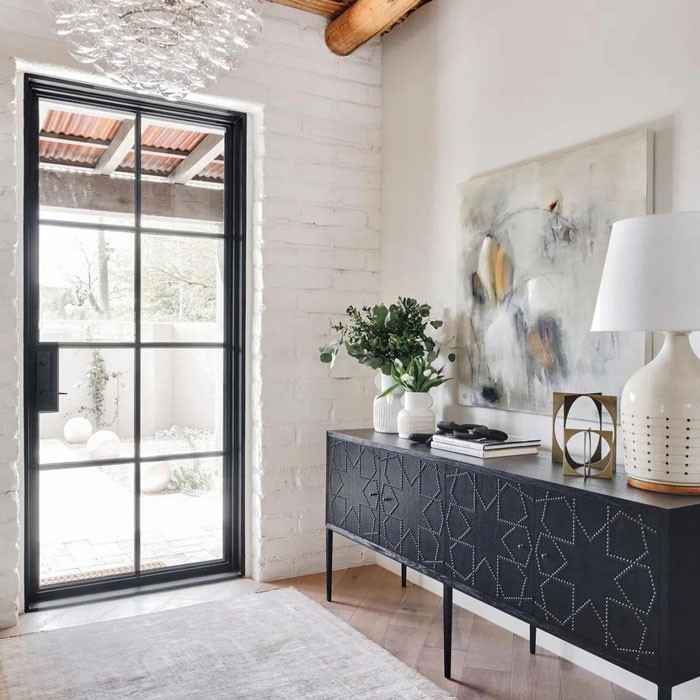 Iron Door Services for Homeowners
Installing a new door or replacing your old one is easy and convenient with
Consolidated Builders Supply's expert team
. We sell and install a wide array of exceptional doors with unbeatable work quality and an excellent overall customer experience. Iron doors add a classic beauty with attractive metal designs and durable construction. You can protect your home from intruders and add curb appeal to your front entrance by choosing an iron door design matching your personal style while complementing your home's architecture and design. Iron doors are ideal for nearly any type of home, whether you have a modern residence, a rustic country house, or a stoic brick build. Our team will work with you to find the best option at a reasonable price and install it at a time that's convenient for you.

Custom-Designed Iron Front Doors for Homes
At Consolidated Builders Supply, we make finding a door even more convenient with personalized options to match your home and reflect your personal style. Our company custom-designs iron front doors to your specifications. You have a vision for how your iron door should look, and we work with you to create a unique design and fabricate your new home investment. We prioritize your satisfaction, so every design we draft incorporates your ideas and preferences to ensure you get exactly what you want. The process is convenient for customers, starting with a free design consultation to discuss your individual needs.
Types of Iron Door Services We Provide
Your home improvement needs and domestic design and décor are integral in determining how your doors will look after installation. Fortunately, Consolidated Builders Supply's selection of brand-name and custom-designed iron doors is expansive, giving you plenty of options to consider. We can walk you through our showroom and work with you to narrow down your choices to doors matching your specific vision and requirements. A new door should fit your home's entry size and complement its color, style, and security needs. Our selection includes doors for every entry point, including iron front doors and metal front doors with glass. We can even enhance your patio entrance with sliding iron doors. Our team of specialists will also schedule your installation and carefully install a new iron or wrought iron door while respecting your interior and exterior spaces.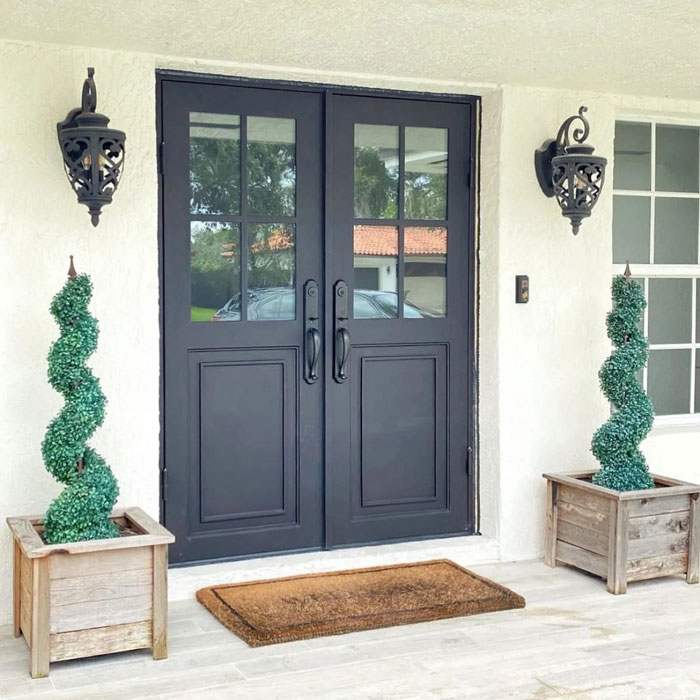 Features of Installing Iron Doors
Iron doors add more than raw beauty to your home. The durable metal material also works well to protect your interior space from intruders and flying debris. Additionally, we can create your custom-designed iron door in a broad range of colors and styles to complement your house. Your guests will be amazed by a beautiful wrought iron door with an intricate pattern or design. Iron also stands the test of time because it resists rust.
Our Custom Iron Door Process
Adding an elegantly crafted iron entry door to your home doesn't need to be a stressful and expensive process. Consolidated Builders Supply's custom iron door process is simple for customers without compromising door quality or essential customer details to create their door design. We start with you scheduling a free design consultation, during which we discuss your unique home improvement needs and budget to formulate an iron door solution specific to your situation. After the design step, our craftspeople then fabricate your new door using the layout, colors, dimensions, and materials you request. We then schedule your door installation and arrive on time to perform our work, ending with a customer inspection and cleanup to leave your property in the same condition as when we arrived.
Why Choose Us to Install Your Iron Doors?
Choosing Consolidated Builders Supply to install your iron doors comes with various benefits. Our extensive time working in home improvement has built our skills and expertise in all
services
we provide. Our wide selection of products gives you access to attractive, durable door options from some of the industry's most trusted brands. We can also custom design a new iron door for you if you want to personalize your new home addition. Our goal is to earn your complete satisfaction during every step of the process, starting with your free consultation and continuing with future repairs and replacements.
Proudly Serving Customers Throughout Oklahoma City, OK
Your new doors, window, and skylights are in good hands with Consolidated Builders Supply. We are ready to match you with iron doors for your home in the metropolitan area, including custom-designed iron doors. Oklahoma City, OK residents have trusted us for decades, and we want to show you how we've become the area's most trusted service provider. You can fill out our contact form or
contact us today
to speak with our professional team.